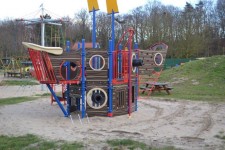 In the playground are many nice attractions to find, a huge fishing boat and a light house are the amazing centrepieces of Playground "De Veilige Haven". Over 65,000 visitors enjoy this playground each year. Kids love to play, explore, and let their imaginations soar in this playground. There's plenty of seating so the grownups can relax too.
The name of the playground means translates to English "The safe harbor" and that is also the theme of the playground. "De Veilige Haven" is completely managed by volunteers.
Facilities
The Canteen serves ice creams, sweets and drinks at low prices.
Contact
Playground "De Veilige Haven"
Heerenduinweg 6a
1971 JE Ijmuiden, The Netherlands
+31(0)255 – 518 077
[mapsmarker marker="1″]
Entrance fees
1 euro (For adults and children, prices of 2020)
Opening times
Click here for the opening times
In certain weather conditions we are closed.